Feeling at home
QH Terracina apartments
Who we are
Renovated apartments in the heart of Terracina
Our family-run tourist business values connecting with our guests to offer them our hospitality. We have three apartments located on the same side of a single building, and we can accommodate a maximum of 15 people. The three apartments are Twins 1, Twins 2, situated on the ground floor with a garden, and Milky Way, located on the first level.
Our apartments are centrally located in Terracina, approximately 400m from the sea, and within this radius, you will find everything you need for a comfortable vacation, such as restaurants, shops, pizzerias, bars, pubs, wine bars, ferry port, and the historic upper town with its historical wonders. Everything is easily accessible on foot in just a few minutes.
Milky Way
The apartment spans 120 square meters, with 80 square meters on the first level and 40 square meters on the second level. It features three bedrooms, including two double bedrooms and one with bunk beds for children. There are two bathrooms on the two levels, making it ideal for large families or groups of friends.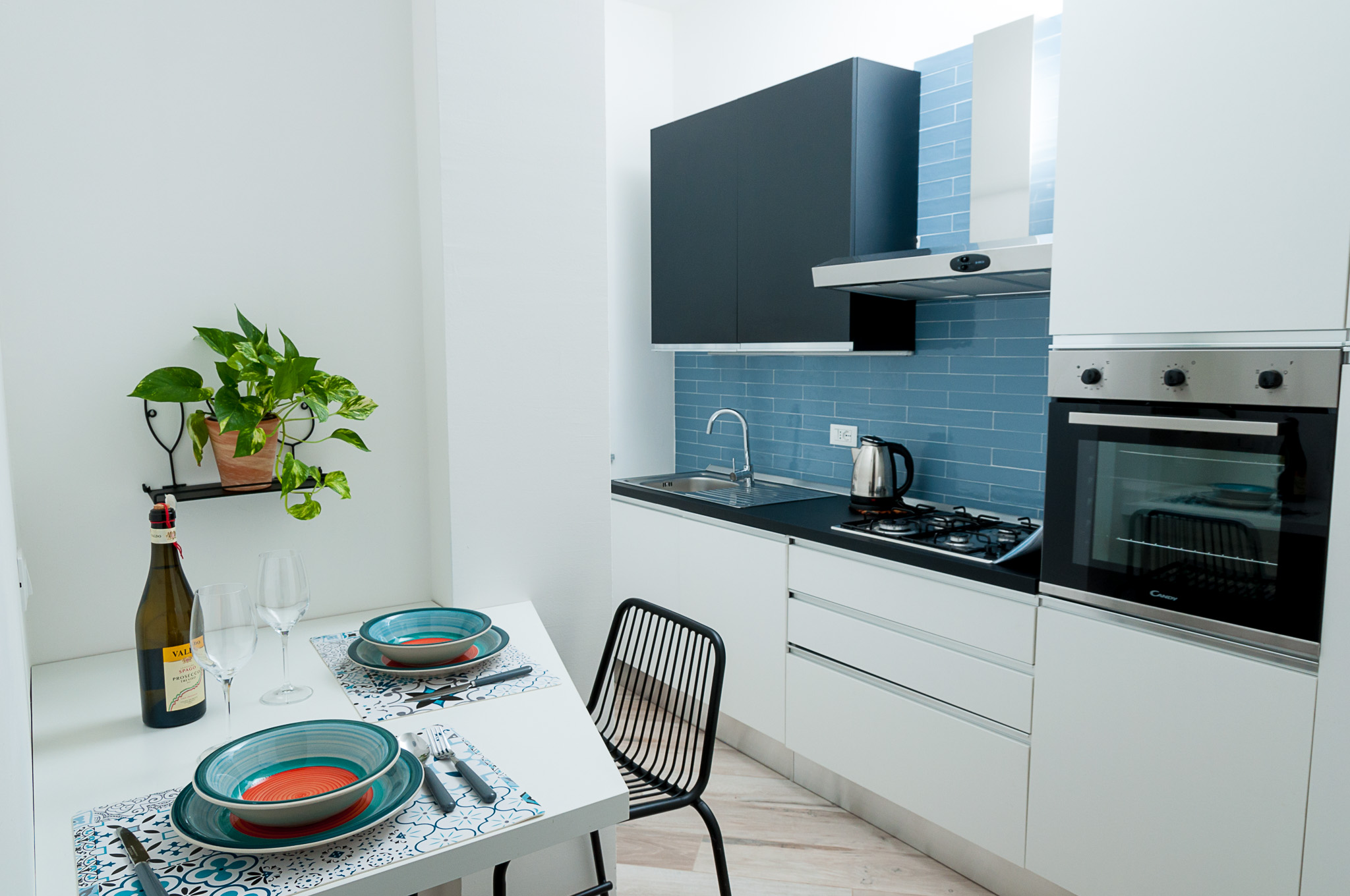 Twins 1
The first of two adjacent apartments measures 45 square meters and can accommodate a maximum of 4 people. It features a double bedroom and two single beds in the living room. Access to the apartment is through the garden, which guests can enjoy for outdoor breakfasts and dinners.
your stay
Comfort, Services, Beachs and sea
Washing machine and dryer
Restaurants
Choosing among the countless restaurants within walking distance is not easy. But we are here to suggest where best to eat, according to your needs.
Bar and Pub
Also for such places you are spoiled for choice. Our apartments are literally surrounded by bars and pubs.
Art & Culture
Terracina's high historic center offers the best you could want with multi-millennial Roman history, as well as medieval history. Recently discovered is the new Roman Theater, an incredible marvel.
Outdoor & Adventure
Discovering the wonders of the sea with free diving or ARA is easy in our city, as well as in the nearby Pontine Islands, real paradises. But there is not only the sea; in Terracina you can climb in really beautiful cliffs, such as Leano and, above all, the nearby Sperlonga with one of the most beautiful rock climbing and mountaineering sites in Europe.
Even out of season cycling is easy thanks to our moderate temperatures, even in the middle of winter. The routes are varied, flat and also challenging climbs to offer athletes very complete training plans. For MTB, maps and very technical mountain routes complete the cycling offer.
Daily trips
The location of Terracina, halfway between Rome and Naples makes it the ideal destination to reach thanks to 1-day trips between the most beautiful cities in the world.
5 stars from Google
Abbiamo soggiornato in questa struttura 10gg con il nostro bimbo di 23mesi…che dire…partirei innanzitutto con tessere le lodi di Antonio e Rita che ci hanno accolti e fatti sentire come a casa ancor prima del nostro arrivo…si proprio come a casa poiché i loro appartamenti sono dei gioielli incastonati sulle nostre coste laziali in cui nn manca nulla….arredati con gusto e super accessoriati dell'impensabile…penso di potermi sbilanciare nel dire questo poiché abbiamo viaggiato parecchio con mio marito, prima dell'arrivo del nostro bimbo, in buona parte del mondo, soggiornando in tutte le tipologie di strutture possibili…da vere e proprie "bettole" a "Resort Super Excelsior" ma difficilmente abbiamo trovato strutture come il Quiet Home Terracina Apartments…consiglio vivamente di beneficiare dei loro alloggi e di farvi coccolare dall'ospitalità di Antonio e Rita che difficilmente troverete in giro x il mondo….Grazie ancora al Quiet Home Terracina Apartments e arrivederci a presto …Lucia, Alessio e Filippo
5 stars from Airbnb
L'alloggio è situato a ridosso della vita pulsante di Terracina pur rimanendo in un contesto tranquillo è silenzioso. La struttura curata nei minimi particolari crea un confort rilassante. Nell'alloggio non manca nulla, Antonio e la moglie lo hanno realizzato come se fosse casa propria con tutti i confort di cui si necessita per viverci. Il giardino ( area in comune ) realizzato in modo impeccabile ottimi i confort in un ambito riservato. Valore aggiunto della struttura la cisterna a forma di giara che ci è stata utilissima per la mancanza di acqua nella zona. Antonio è stato molto gentile nell'accoglienza e con molto garbo ed educazione ci ha mostrato la struttura di cui siamo rimasti affascinati. Antonio è stato sempre presente con una discrezione impeccabile. Lo consigliamo veramente con il cuore è sicuramente torneremo a trovarvi.
10 from Booking.com
Lovely apartment in a beautiful town. Location was excellent . Walking distance to shops , cafes, restaurants and beach .
lovely large apartment with bedroom/ensuite upstairs and 2bedrooms and bathroom off main living area . fully equipped kitchen . Small balcony which was lovely to sit out during the day . Antonio , the owner is a lovely man . very helpful and great for giving advice on bedt restaurants etc .
10 from Booking.com
Anbefaler denne leiligheten.
Beliggenheten er nært til alt bare noen hundre meter til stranden og butikkene var nært. Verten var å hentet oss til leiligheten og han var veldig hyggelig og hjelpsom. Leilighet var veldig koselig, med en nydelig hage. Stille og rolig. Vi hadde det kjempe fint.
Super accessoriata a livello domestico pulita accogliente luminosa dotata di ogni comfort
Che dire! Esperienza straordinaria, mai e ripeto MAI abbiamo ricevuto accoglienza migliore di quella che ci ha riservato Antonio, persona sempre disponibile e pronta a soddisfare ogni esigenza, abbiamo alloggiato nella Twins 1 e siamo rimasti piacevolmente colpiti dalle innumerevoli comodità dell'alloggio, ciliegina sulla torta il giardino dotato di tavoli, ombrelloni e doccia solare a nostra disposizione, vano lavanderia con lavatrice e asciugatrice (un sogno per me😜), abbiamo un bambino di 10 mesi e abbiamo trovato a disposizione anche culla e seggiolone…..grazie Antonio ci rivedremo presto.
Un vero paradiso al centro di Terracina ✌️😍 Antonio e la moglie Rita sono persone meravigliose, siamo stati benissimo, otto giorni all'insegna del relax e il ben essere lo consigliamo a tutti! Merita 6 stelle ⭐️
Antonios Apartments are great! We stayed in Twins 1 but he also showed us Twins 2 and the big appartment upstairs. They are all very modern, very clean and very beautiful. We felt very much at home. Everything that is needed for a good vacation was provided. If we had any questions Antonio answered them immediately and also suggested good places in town for food and activities. He and his wife are wonderful hosts (maybe the best), with great hospitality, always caring for their guests. From Check-In to Check-Out and everything in between went smooth. The location of the apartments is really convenient. A 5 minute walk to the beach, 10 minutes to the old town, 10 minutes to the port and only 2 minutes to bars, restaurants and shops. It couldn't be better. And still it is really quiet and the outside area gives you space to relax before or after a day out. Without the slightest doubt fully recommendable!
Le strutture Quiet Home sono belle, dotate di ogni confort e alcune anche di uno splendido giardino. Posizionate al centro di Terracina e ad un passo dal mare…potete dimenticarvi la macchina! Inoltre, l'attenzione e la cura del cliente da parte di Antonio e Rita è costante, tempestiva e sempre molto cortese, un piacere averli conosciuti. Consiglio vivamente Quiet Home a tutti color che vogliono godere di una vacanza di piacevole relax.
Our family stayed in Milky Way, in Quiet Home very recently.
The location is amazing. Close to the beach, close walk to the squares, shops. But secluded enough where it is peaceful.
There was more than enough space for the 4 of us and you can tell this place is looked after with genuine care and attention. It has everything you could ask for.
The best part? Antonio is the best host I've ever experienced on any trip, anywhere. He made this a highlight. He went above and beyond with recommendations, bookings, advice whilst at were there and the months leading up to the trip.
Antonio and his wife also made sure we had what we needed when we arrived and understood what it meant to have young kids. Just so helpful and welcoming.
Also, best limoncello on the planet.If you ever consider visiting Terracina (and you should) stay here. I'd rate this more than 5* if I could.
Appena trascorso un piacevole fine settimana con la mia famiglia in questo appartamento: spazioso, confortevole, dotato di ogni confort e senz'altro arredato e decorato con gusto. Posizione vantaggiosa rispetto al mare, ai siti di interesse ed alle attività commerciali. Da non sottovalutare la squisita disponibilità del Sig. Antonio, sempre pronto a fornire assistenza e ottimi suggerimenti per godere a pieno del soggiorno. Consiglio vivamente!
Bellissimo appartamento….Tutto perfetto dalla pulizia agli spazi al posto praticamente centrale e quindi a due passi dal mare incantevole dai negozi e a pochi km per visitare altri posti…per non parlare della gentilezza e della disponibilità di Antonio
L'appartamento,tutto completamente ristrutturato, è accogliente,pulito,con tutti i comfort possibili! Consiglio vivamente di alloggiare in questo posto che sia per un weekend o una settimana di vacanza! Per non parlare poi della gentilezza e accoglienza magnifica del proprietario! Non potevamo trovare posto migliore e sicuramente ci torneremo al più presto! A pochi passi dal mare e molto centrale come posizione!
The first thing to mention is communication with Antonio, who was extremely helpful, gave us lots of advices where to go, what to visit, backeries, restaurants and even some historical information. Thank you very much! It was you who made us feel at home and as comfortable as possible! The location of the flat is almost ideal – it is right in the center, but it is not noisy. It is situated very close to the sea with a very good beach, restaurants and shops. So you can enjoy the life. And there is a wonderful view to the temple from the balcony. Inside the flat is very stylish, fully equipped, there is a lot of space for a big family. There were 6 of us (4 adults and 2 children) and everyone felt really comfortable. The flat is fully airconditioned, which is very important in summer. Towels, linen, soap – everything was there. And we really enjoyed a bottle of proseco and a plate with some snack on our arrival from Antonio. I highly reccomend the flat in beautiful Terracina.
Appartamento molto spazioso,curato in ogni piccolo dettaglio è molto pulito.Posizione molto comoda,puoi raggiungere tutto a piedi: mare,centro storico,negozi e supermercati!Antonio è una persona speciale e molto disponibile!Super vacanza!
L'appartamento,tutto completamente ristrutturato, è accogliente,pulito,con tutti i comfort possibili! Consiglio vivamente di alloggiare in questo posto che sia per un weekend o una settimana di vacanza! Per non parlare poi della gentilezza e accoglienza magnifica del proprietario! Non potevamo trovare posto migliore e sicuramente ci torneremo al più presto! A pochi passi dal mare e molto centrale come posizione!
Tutto perfetto! Posizione eccellente al centro di Terracina, casa nuovissima e arredata benissimo, pulitissima, completa di tutto curata nei minimi dettagli, nuovissimi elettrodomestici, fornita di stoviglie e accessori, materasso memory top! Aria condizionata,, tv collegata a Wi-Fi ed infine ma non per questo meno importante, Antonio il proprietario è .sembra di stare a casa propria. Grazie di tutto ci rivedremo sicuramente!!
Era una vacanza fantastica! L'apartamento meraviglioso!!! Sicuramente tornerremo prossim'anno. Complimenti, Antonio – proprietario di locale
A great relaxing vacation in a great location.
Great location close to restaurants, beach and port. Appartment had very efficient air conditioning which was very much needed. Very friendly and helpful host recommended lots of places to visit and even gave us a lift to the train station.
The Best apartments in Terracina – 10.0 !
Our team: 2 adult, boy 7 years, girl 2 years. We had a choice to stay in 4* hotel with a swimming pool but with small rooms or book big apartments. A few years ago we stayed in the hotel. This time we decided to go with 2nd option and booked «Sweet Home Terracina» apartments. It definitely was the right decision: 1. Location: 5 min to sea; 2 min to the center with many different food places and shops; 3 min to supermarket; 5 min to the historical center; 2 min to the best park for children in Terracina. 2. Apartments: new and clean; very sunny; calm; big size and many rooms allows to comfortably stay big family with many children; personally, I love the balcony where I met sunrises with view to the mountain. 3. Apartments furniture: very beautiful ware; oven; washing machine; dishwasher; clean bathrooms; stable and fast WiFi; TV with ability to watch movies form Internet. 4. Especially, I want to thank the flat owner Antonio who helped us a lot with different advices which made our holidays relaxed and more saturated.
Casa accogliente vicino al mare e in centro – Stupenda! – 10.0
Semplicemente sublime, la casa tutta ristrutturata, con tutte le attrezzature necessarie… Non ci sono parole così adeguate che possano esprimere l'accoglienza del titolare e sua moglie che ci hanno fatto sentire veramente a casa. Terracina è bellissima, piena di storia, di vita oltre che avere il mare stupendo! Forse quello fa della gente che abita lì così speciale! Siamo andati in pleno inverno, la casa era bella calda e il paisaggio indimenticabile.
Чисто, уютно, комфортно и отличное расположение. Отдыхали втроём, но в квартире с лёгкостью могут расположиться и две семьи. Главный плюс в выборе данного объекта это Антонио, хозяин квартиры, который сделал всё, чтобы сделать наш отдых максимально приятным и позитивным . В любой ситуации и по любому вопросу, 24 часа в сутки он готов прийти на помощь. Складывается ощущение, что приехал на отдых не в чужую страну, где никого не знаешь , а в гости к родному дядюшке. С удовольствием остановились бы ещё.!
Amore a prima vista – 10.0
Quando prima che finisca il soggiorno pensi, la prossima volta che vengo voglio tornare qui, è la risposta a tutte le domande.
Отличные апартаменты с удобным месторасположением и приветливыми хозяевами. Основным критерием в выборе места проживания были-просторная , светлая квартира в центре города. Т.к. Мы путешествовали с ребенком, важна была детская кроватка ( в апартаментах два варианта для детей постарше-двухъярусная и для малышей с бортиками), а также кухня и вся необходимая техника( стиральная и посудомоечная машины). Очень порадовало наличие двух ванн-нам пригодилось!)) приятный сюрприз ждал нас по приезду-Антонио подготовил подарок для нашего малыша, а также его супруга испекла обалденный пирог (что очень кстати с дороги), а в холодильнике были просекко с мясными деликатесами!! И необходимые напитки-соки, молоко, вода. Апартаменты идеально подойдут для двух семей или для семьи с детьми и с помощниками-няней или бабушками. В апартаментах свежий ремонт, чистые ванные и новая кухня со всем необходимым, для приготовления любых блюд. Все выполнено в современном стиле и светлых тонах-что очень нам понравилось!! Второй раз в Террачина, до этого отдыхали в отеле. С удовольствием вернулись бы в этот дом ещё раз!!!
Terracina with style
Book by us !
We have indications and suggestions to guarantee your best vacation
Terracina (LT) - Via Diaz, 7
info@quiethome-terracina.it